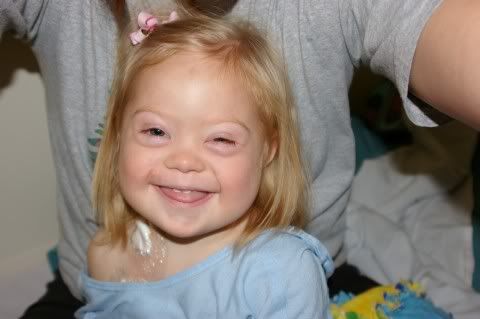 This newest Mission is especially for all the artists out there, whether you're a professional artist, someone who likes to dabble with water colors, or a 2-year-old with fingerpaints. There's a little girl who needs our help to keep her spirits up!
Chelsea
is a little girl who has Down syndrome. Recently, she was diagnosed with Acute Myelogenous Leukemia. This kiddo is going to have to spend some time in the hospital, which is never fun for anyone, let alone a little munchkin!
To help brighten Chelsea's hospital room, and to show her that people all over the world are going to be thinking about her, Chelsea's family is asking for people to send artwork to her!
This is an easy mission, especially if you have kids of your own! Just get out your crayons or paints, blank paper or coloring books, have some fun, and send the results to Chelsea!
You'll have to
email them
to get the address of the hospital.
Lets all send little Chelsea some cheer!