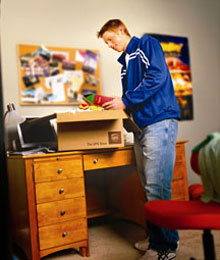 If you went away to college when you were young, you might remember that your parents or grandparents or some other family member sent you care packageson a regular basis and made sure you had everything you needed! For some youth who are from foster care, if they go away to college they don't have anyone who will send them care packages like that!
I recently found out that the
Orphan Foundation of America,
which provides scholarships, internships, and other opportunities to kids aging out of foster care, also has a program in which they
send care packages to college kids who were in foster
care. Kids in the program get three packages a year... one in September, one in February, and one in late April.
One of the simplest ways you can help out with this special project is to send a card with a hand-written note of encouragement to a college-bound kid from foster care. Your card will be included in one of the care packages. A lot of the kids who recieve the packages say that the cards are their favorite parts!
If you would like to send a card, mail it to
OFA, Attn: Care Packages, 21351 Gentry Drive, Suite 130, Sterling, VA 20166
, and it will be included in a care package.
You could also choose to send a book of stamps, or a gift card from a nation-wide or Internet store or restaurant.
Such an easy way to make a difference, right? School is about to start again, so jot down a quick card and put it in the mail today!
Happy Mission Monday!