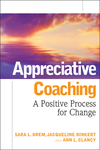 Capella University, an accredited university where all classes take place online, is shining a light on one of their adjunct faculty members. Sara Orem, PhD, who is a faculty member and coach for the University's School of Business and Technology, has recently co-authored a book! The book, Appreciative Coaching: A Positive Process for Change, is a sort of self-help for people who individuals, business managers, leaders of organizations, and others. The idea behind the book is that coaches can guide their clients to focus on human ideals, achievements, and best practice, in order to get the most from their own employees and others around them.
Orem also runs her own coaching firm.
As for Capella University, if you're looking for an
online graduate degree
program, you might want to check out this online university! They offer 82 graduate and undergraduate programs and 16 certificate programs. 17,900 students are already taking advantage of this unique way to learn! Who ever thought that getting a higher education could be so simple?