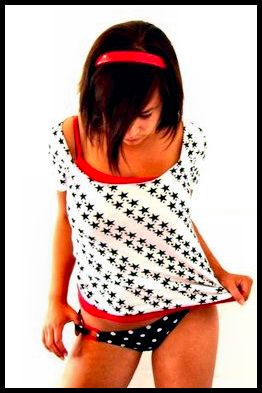 Is the kid in this picture dressed so provocatively that, if she got molested, it would be her own fault?
Lets call the little girl "Lauren." Lauren was a 10-year-old British girl. She was walking down the street alone one day, when she was approached by two men: 24-year-old Keith Fenn, and 34-year-old Darren Wright. The men befriended her, and Lauren walked with them to a local park.
There, Fenn raped Lauren. Then, Wright took Lauren to his own home, where he sexually assaulted her.
Apparently little Lauren later told someone about what had happened to her, and the case was taken to court. But the men got little more than a slap on the wrists. After all, according to Judge Julian Hall, Lauren was equally to blame.
Judge Hall pointed out that, although Lauren was only ten years old, she looked older than she was. She regularly wore makeup, and dressed "provacatively", wearing a strappy top, and a frilly bra and a thong under her clothes. Besides, said Judge Hall, Lauren was a foster child, and had been in foster care since she was four. She was obviously "very disturbed," and "very needy." She was "sexually precocious." And she had walked to the park with the two men, of her own free will.
Because Wright and Fenn had been in jail for eight months already, while awaiting their trials, , even the short little sentences they recieved were made shorter. Wright was able to walk away freely, and Fenn will only have to serve a few more months in jail. After that, they will both be free to walk the streets again, and exercise their rights to rape or molest any child who they feel is dressed provacitively.
Disgusting, isn't it? Well, the public sure isn't very happy with this Judge Hall character.
On the same day that he set Lauren's attackers free, Judge Hall saw a case where an 11-year-old girl had been molested by a man who had been babysitting her. The man even admitted that he had molested the child. Instead of giving him jail time, Judge Hall gave him three years of court supervision, and required that he be on the Registered Sex Offenders list for the next five years.
And thats not all... earier this year, a man who had already been convicted once of molesting a 12-year-old, was brought to court for molesting a 6-year-old girl. Apparently that little girl was playing in her yard, when the man approached her and began to molest her. Luckily, the child's mother came outside and caught him in the act! But Judge Hall gave him a mild sentence of court supervision, and ordered him to give the child $250 so her family could buy her a new bike to cheer her up.
Children's charities, and the public as well, are expressing dismay over this judge and his lenient sentences on people who molest children. There is a push for him to be banned from overseeing trials involving pedophiles. Hopefully, something will be done about him!
***
Please visit our Featured Sponsor! If you make a purchase from this sponsor, through this page, you'll generate a donation for this month's children's organization!
If you're having a party, or want to keep a stock of small trinkets to use as rewards or treats for the children in your life, then you need to check out this site!