I bet you didn't know it, but today is Oscar the Grouch's Birthday!
I grew up watching
Sesame Street
. When I was a kid, in the 80's, there weren't that many choices of shows for kids! We usually didn't have cable, so we were stuck with either cartoons, or whatever was on WTTW. I liked
Mr. Rogers
,
Electric Company
, and 3-2-1 Contact... but I
loved
Sesame Street
and I watched it until I was alarmingly old! (Even now, I am happy when my little niece chooses to watch Sesame Street, because there's still stuff on that show that can make me laugh... although Elmo is getting annoying.)
Oscar the Grouch was one of my favorites. He's a green monster who lives in a trash can and is often very cranky... but underneath, he has a kind heart! I can tell because of how sweet he is to his pet worm, Slimey...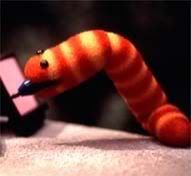 and how he mentors a group of children called the Grouchkateers!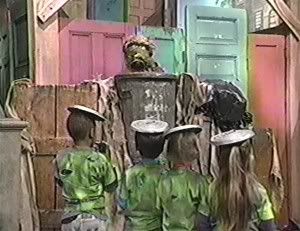 Oscar's trash can looked like an ordinary trash can, but there was a whole world inside there! He kept everything under the sun in there, including an elephant! He could also stick his legs out of the bottom of the trash can and walk around if he wanted to... when he wasn't being carried by Bruno the Trashman!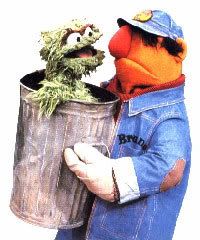 Oh yeah, and did you know that Oscar was originally orange?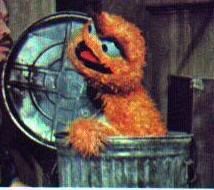 In honor of Oscar's birthday, here's a special treat for you!
Admit it, you love Oscar as much as I do!
Happy Birthday, Oscar!