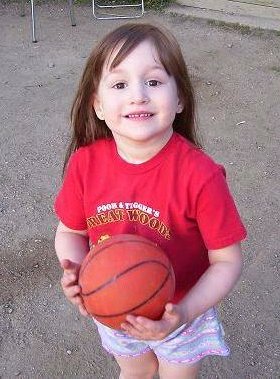 The story of little Reachelle Smith may be a confusing one, and it was a confusing story long before she disappeared from her home early one morning last May.
The story begins in 2002, when Reachelle's mother, a teenager who didn't feel ready to care for a baby, gave custody of Raechelle to her sister, Stephanie. Stephanie was the one who raised Raechelle for the next three years... until the night of May 16, 2006.
Stephanie apparently had a roommate, Leigh Cowan, a man who had known Reachelle all her life. In fact, Leigh usually claimed that Reachelle was his daughter, and had even convinced his own mother that Reachelle was his. (After Reachelle went missing, DNA tests proved that Leigh was not actually Reachelle's father.) Leigh had recently been charged with theft, and was on probation. He had missed a meeting with his probation officer, and knew that there was a warrant out for his arrest, and that he could face up to eighteen months in prison if he was caught. He had even taken pictures of Reachelle, so that he could bring the pictures with him when he went to prison.
When Stephanie woke up on May 17 and saw that Reachelle was not in the house, Leigh told her that his mother, who lived near by, had come and picked up the child to stay with her for a few days. Stephanie didn't find this surprising. After all, Leigh thought of himself as Reachelle's father, and Leigh's mother believed herself to be Reachelle's grandmother.
Days passed. Stephanie began to ask Leigh how long his mother was planning to keep Reachelle for. She began to suggest that it was time for the three-year-old to be brought home. Leigh had various excuses, including that his mother's car had broken down and so she was unable to bring Reachelle home, that his mother and Reachelle were going off on some activity that day, etc.
On one of the days, Leigh's mother actually came to Stephanie's house. When Stephanie asked her where Reachelle was, Leigh's mother looked at her strangely, and seemed confused by the question. Leigh asked to speak privately with his mother. Unbeknownst to Stephanie, Leigh told his mother that he was covering for Reachelle's birth mother, Samantha, who he said had taken Reachelle to South Dakota. (That turned out to not be true!)
On the 22nd, Stephanie woke up to find that her van was missing, and Leigh was gone as well. Stephanie went to where Leigh's mother lived, hoping to find Leigh, the missing van, and Reachelle, there. But instead, she found that Leigh's mother had actually moved away the week before. Stephanie then called the police, and reported Reachelle as missing. It was believed that Leigh had taken Reachelle, and perhaps was traveling with the child, in the stolen van, to where some of his relatives lived.
But then, in a bizarre twist of events, Leigh was found dead. Aparently he had driven the van to a near by wildlife refuge, and committed suicide. Reachelle was still no where to be found.
Since then, word about her disappearance has been passed around the Internet... and for a while, people believed that her story was an urban legend and that Reachelle Smith didn't really exist. (Although why someone would
make up
a missing child case and pass it around the Internet is beyond me... but apparently it does happen!)
Do a search on Reachelle's name on the Internet, and you will find all sorts of message boards where arm-chair detectives have posted their thoughts about Reachelle's family. Most seem to think that Leigh was responsible for Reachelle's disappearance, and that he committed suicide either out of guilt, or to cover something up. Others have criticized Reachelle's aunt for not calling the police sooner, and for letting a "strange man" spend time with Reachelle. Some have suggested that Stephanie or Samantha had something to do with the disappearance. When making these assumptions, people often point out Reachelle's unusual living situation as a reason.
But I've lived a pretty unusual life myself, and I can tell you from experience that people are different everywhere. It is not so unusual for a young mother to give custody of her baby to her sister or another relative. It is not so unusual for there to be more than one possibility about who a child's father is... and it is not so unusual for one person, who really wants to be father, to latch on to the idea that he really is. It is not even so unusual for a parent to not immediately call the police when one family member tells her that another family member has taken the child for a visit for a while.
What is unusual is for a three-year-old to vanish without a trace... and that is what we should all concentrate on... finding Reachelle. She's four now, and has been missing for over a year. Please look at her picture, and pray for her safe return. You can view her "missing child" poster
here
.